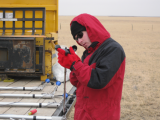 I assist with the setup of meteorological data collection towers used for wind resource analysis. My role is to set up the logger's sensor and communication configurations. The sensors collect wind speed, direction, temperature as well as air pressure and solar radiation typically. Wind measurements are taken at different heights up the tower to gather more information. All of this is sent back daily for analysis via cellular modem. The system uses a gin pole that is shorter than the tower to provide leverage and counterweight so that a crane is not necessary to lift this 60 meter tower.
To see more click on the photo at left or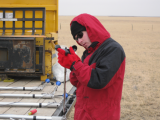 view images.
Images were taken over a period of several months from multiple locations. They are displayed in the order of progress to completion of a tower.